The importance of Wearing a Medical Alert Bracelet:
Alzheimer's Foundation of America (AFA) president/CEO ,Charles J. Fuschillo Jr., called wandering "a real risk" among people with Alzheimer's disease and related dementia's.
6 out of 10 people living with dementia will end up wandering from safety.
If your loved one has Alzheimer's, take a proactive step by getting a medical id. "Should a person become lost, identification jewelry is essential in helping to ensure he or she realizes a happy and safe homecoming." Fuschillo said.
Roughly 5.1 million cases of Alzheimer's disease have been reported in American alone. It usually requires between 1 and 4 family members (or live-in help) to maintain care.
StickyJ offers many wonderful options for medical identification jewelry, but there's a certain product line that stands out! Our medical ID bracelets with "Safety Hook Clasps" or "Sister Hooks" require two hands to remove, making it more difficult for people to remove.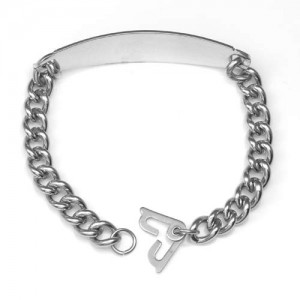 This ensures a higher chance of your loved one being brought home or given proper medical treatment in the case of wandering.
Your Name
Diagnosis
Medications
Emergency Numbers
*Allergies is there's room, or add them to your medical wallet card
Example: John Smith

Alzheimer's

exelon; no nuts

(999) 999-0000
-The most common abbreviation for Alzheimer's Disease is ALZ ;
AD is also sometimes recognized as an abbreviation.
-The most common medications given to Alzheimer's patients are:
Drug Namebrand
| | |
| --- | --- |
| 1. donepezil | Aricept |
| 2. galantamine | Razadyne |
| 3. memantine | Namenda |
| 4. rivastigmine | Exelon |
| 5. donepezil and memantine | Namzaric |
Some doctors will also prescribe high doses of Vitamin E for the cognitive changes associated with the disease.
Sources: Alzheimer's Disease International, Alzheimer's.Org, National Institute of Health, ALZFDN.org