DNR Rules & Regulations
You have likely heard of a DNR, but what is it?
A do not resuscitate (DNR) order states that you do not want healthcare providers to perform CPR in case you go into cardiac arrest. CPR and advanced cardiac life support (ACLS) will be withheld if you have a valid written "DNR" order on you (Note: the written and physician signed order must be present). Some doctors won't perform chest compressions but will provide advanced care such as mechanical ventilation.
DNR orders must come from a physician. If you'd like CPR to be withheld; you (or a health care power of attorney) need to talk to your doctor for a written order.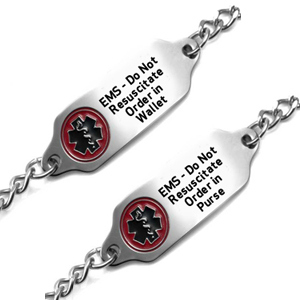 Paramedics and EMT's are usually allowed to follow a written DNR request, though each state has different rules, and there can be different municipalities within them. Many states have standardized legal forms for DNR orders. If you don't have a form in that state, your wishes may not be honored.
Persons requesting DNR jewelry should first complete a DNR Order Form, which must be signed by their physician.
State Rules
If you live in Virginia, the words "Virginia-Do Not Resuscitate" must be engraved on your medical alert jewelry. You also need your name, doctors name and phone number, and the date the DNR form was issued.

Once you've executed a DNR Order with your physician, you can place your order with us. You must send us a copy of the OOH DNR Order signed by your physician.
Alabama
Do Not Attempt Resuscitation Order
Alaska
Comfort One Program
Arizona
Life Care Planning FAQs
Arkansas
Rules and Regulations for DNR
California
DNR and Physician Orders
Colorado
DNR Directives
Connecticut
DNR Orders
Delaware
Medical Orders for Life-Sustaining Treatment
Florida
Do Not Resuscitate Order
Georgia
DNR Order
Hawaii
CCO and DNR Information
Idaho
POST Patient FAQs
Illinois
Advance Directives and DNR Orders
Indiana
Out of Hospital Do Not Resuscitate Declarations
Iowa
Out of Hospital DNR
Kansas
Advance Directives Information and DNR Form
Kentucky
End-of-Life Care Information
Louisiana
Declarations for Life-Sustaining Procedures
Maine
Comfort Care/DNR Program
Maryland
Order for Life Sustaining Treatment
Massachusetts
Medical Orders for Life-Sustaining Treatment and DNR
Michigan
Do Not Resuscitate Policy
Minnesota
DNR Information
Mississippi
Advance Health Care Directive
Missouri
DNR Order
Montana
Do Not Resuscitate Protocol
Nebraska
Advance Directive Information
Nevada
DNR Application
New Hampshire
Do Not Resuscitate Identification
New Jersey
DNR Orders
New Mexico
DNR Orders
New York
DNR Order
DNR FAQs
North Carolina
DNR and MOST Forms
North Dakota
DNR Handbook
Ohio
DNR Information
Oklahoma
DNR Consent Form
Oregon
End of Life Care
Pennsylvania
Out of Hospital DNR Orders
Rhode Island
DNR Comfort One Handbook
South Carolina
EMS DNR Order
South Dakota
Advanced Directives (DNR Orders)
Tennessee
POST/DNR Info
Texas
Do Not Resuscitate Program
Utah
Life With Dignity / POLST / DNR
Vermont
DNR Form
Virginia
Durable Do Not Resuscitate Program
Washington
DNR Info
West Virginia
Do Not Resuscitate Act
Wisconsin
DNR Info
Wyoming
DNR/Comfort One Info